Sriti Cave in Kulon Progo Regency, Yogyakarta Special Region
---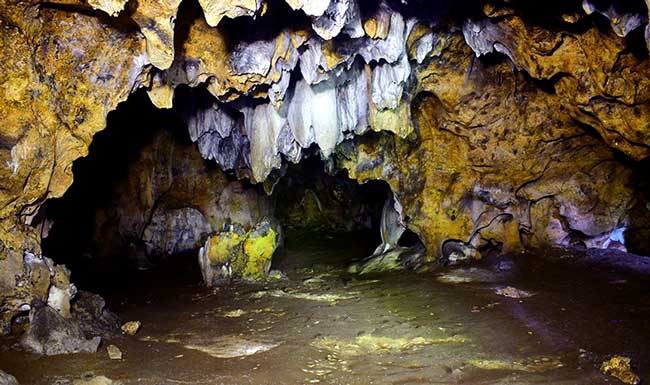 Those who love an adventure should consider visiting Kulon Progo Regency during the next holidays. The region has many interesting places to conduct an exploration and adventure, after all. Here is the reference. The name is Sriti Cave and it is located in Purwoharjo Village. The cave belongs to Samigaluh Sub-District, actually. Unlike regular caves, this one has become an important region's historical and cultural heritage! The cave once used by the famous Prince Dipenogoro as a hidden place during the war against the Dutch. In terms of tourism, the cave is suitable to enjoy photography, learn history, and exploration.
The Nuance
Due to a difficult route and hidden location, Sriti Cave is not quite popular among tourists. It is even inferior to Selarong Cave, which was also used by Prince Diponegoro for hiding back then. Also, the number of visitors is considered low! Thus, the nuance feels more peaceful and comfortable. That means tourists can enjoy exploration at ease. As for the route, it is both steep and challenging. It is because the cave is located in a hilly area. This explains why the prince chose it as his hiding place back then.
Exploring Sriti Cave
The first thing to enjoy when visiting Sriti Cave is none other than the trip or adventure. After all, everyone should perform trekking in order to reach the cave. The location is on a hill and visitors must pass through a steep route, too. Have no worries. People who live in that area are ready to help everyone. Most of these people work as a farmer and they are often seen along the way to the cave. Thus, tourists can easily ask information regarding the direction or even tips.
During trekking, tourists may see only a few people who also head to the site. It is said the number of visitors is low, even during holidays. Only 10 or 20 people can be seen during a long holiday, in fact! These people are mostly nature and history lovers. In order to get further information related to the cave, though, it is recommended to hire a local guide. The purpose is to learn history, especially related to the days when Prince Diponegoro hid in the cave.
Aside from trekking and learning history, people keep visiting Sriti Cave to conduct a cave exploration or caving. The purpose is to appreciate the beautiful interior of the cave, including the presence of stalagmites and stalactites. The damp and dark nuance makes this activity a little bit uncomfortable, though. Thus, everyone should use a flashlight and wear nice footwear during the exploration.
Nearby Attractions

Tinalah Village
Puncak Kleco
Kabudwareh Village
How to Get There
It is considered easy to reach Sriti Cave. First, tourists must get to Yogyakarta City and it can be done by any types of transportation service. For outsiders, in this case, the most recommended way is by airplane. From Jakarta City, for example, a flight from Soekarno – Hatta International Airport to Adisucipto Airport may take around 1 hour and 10 minutes. From the airport, tourists should head to Kulon Progo Regency right away and take Yogyakarta – Wates Street. The distance is 36.7 km, so the trip would take around 54 minutes. From Kulon Progo, later, they must take Sentolo Nanggulan and get to Sriti Cave. This trip may take about 48 minutes, as the distance is 27.9 km.
Where to Stay

Ndalem Dasuriah
Rimbono Homestay
Miri Sewu Homestay
Affetto Jogja